A picture of ROBERT PECK and family
and another of one of his barges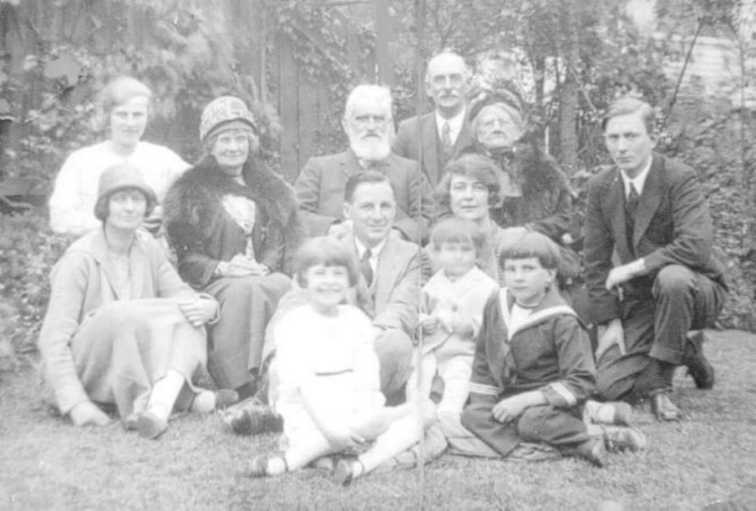 This picture shows Robert (bearded) with Emma on his left. Between them at back is Robert Richmond, their son, with Florence, his wife, on Robert's right. Florence's daughters are to her right, Joan above, Olive below. On Emma's left Bernard, Joan and Olive's brother, and to his right his sister Ivy and her husband Gerald Bromfield. I am unable to identify the children.
---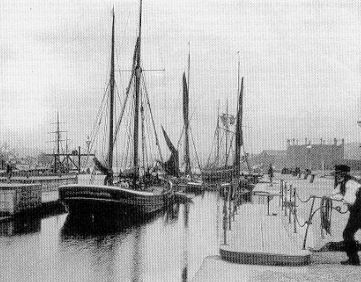 In early life Robert was a mariner later becoming an Ipswich shipbuilder and barge owner. He built a number of East Coast sailing barges in the 1890's described in the book "Down Tops'l" by Hervey Benham. These were said to be "deep and sea kindly with shearing coaster bows and elegant stern", a good example being the "Ethel Edith".
The picture shows Ipswich barges waiting for the lockgate to be opened to let them sail into the Wet Dock. The barge in the foreground is the 88 ft boomie (ketch), "Ethel Edith" She was built by Robert at the Dock End Yard, Ipswich in 1892 (88.5 x 23 x 7.9 ft, 97 tons). When she finished trading in 1927 she became a houseboat at Pin Mill. Nowadays (year 2000) she has all but disappeared into the mud but I was able to salvage a piece of waterlogged oak from her four years ago. Woodturning is a hobby and I turned a bowl attaching a silver plate inscribed "Oak from the barge "Ethel Edith" built 1892 at Ipswich by Robert Peck. Bowl turned by his great grandson Graham Peck, 1997". (Instant heirloom)?
Other barges in the boomie style were the "Flower of Essex" (1890) and "Ivy P" (1893 - 79 tons). The latter finished her days trading in the Irish Sea. In 1936 or 1937 she was in distress in Wicklow Bay. The Wicklow lifeboat rescued the crew but some Ramsgate fisherman from a trawler sheltering in the harbour went out and sailed her in earning themselves a Christmas salvage.
Robert's barge "Gipping", 60 registered tons, was built for the brothers Robert and William Paul for use in their business R. & W. Paul Ltd, Maltsters, of Ipswich, still in business and known today as Pauls plc.
---